During the summer months, your porch or patio is likely one of the most popular places in your home to relax and enjoy the warm weather. Fall brings cooler temperatures and changing weather doesn't mean you have to move indoors just yet; the beautiful array of colors and festivities provide a multitude of decorative ideas to celebrate the season. Even if you are working with a limited budget, there are many fun ideas to dress your porch or patio to make it the centerpiece of your next home event.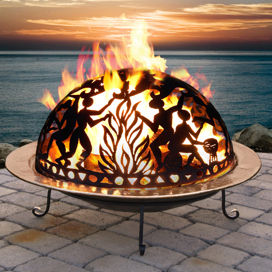 As the nights begin to cool, a fire pit provides a gathering point that everyone loves to get cozy around. It creates a great ambiance and provides extra warmth on those chilly evenings. You can also add a bit of extra
light with hurricane lanterns, candles, or heat lamps if a fire pit is not feasible. Extra light makes your porch or patio warm and welcoming, encouraging people to relax and enjoy the environment. Using bright colors to decorate the area will also brighten up the space. You may want to keep extra blankets on hand for you to cuddle under.
Some of the most iconic décor items for the fall include pumpkins, squashes, ears of corn, cornucopias, and a variety of other vegetables that are reminiscent of the harvest. There are also a wide variety of blooms and plants that thrive in cooler climates. Natural elements provide beautiful, colorful accents to the area. Besides the more traditional elements, you can use a variety of natural features to create conversation or centerpieces for your porch or patio.
You can easily create an outdoor centerpiece with potted plants and rustic accents that will be sure to last through the season.
Baskets are excellent decorative touches that are both inexpensive and easy to use. You can find them in all shapes and sizes and fill them with combinations of apples, walnuts, evergreens, or pinecones to add both color and texture to the décor. You can also incorporate traditional gardening equipment such as a small wheelbarrow or metal buckets as planters or containers for your fall foliage.
There are also less traditional elements you can introduce which are sure to capture the attention of any guest. Antlers for elk or deer and large pieces of driftwood are fun and interesting additions to any outdoor space. If you live near wooded areas or beaches, you may be able to find these locally which will add an even more rustic appeal.
The changing colors provide a rich backdrop of reds, oranges, greens, and yellows to decorate your patio or porch. You can incorporate natural elements such as flowers and foliage, but you should also use these tones as an accent in other décor. You can match or coordinate table linens, fabrics, candles, plant boxes, or other items to capture the tones of the season.
Fabrics can add a variety of rich texture and accent colors for any space. You can use throw pillows or custom cushion fabrics to layer textiles in order to create a worldly, eclectic feel in your seating area. Make sure you choose a resilient fabric for your outdoor furniture so that it will stand the test of time. It is also wise to move your outdoor furniture to a covered area or nearer to the house; closer proximity is more practical when rainstorms descend.