Doing our small part to give a little back to our community one cushion at a time ...
As always we are in awe of individuals who dedicate their time for an amazing cause and give back to their community. Recently we had the opportunity to assist two local artist who began an initiative to take their creativity, art and music on the road visiting cities, villages and other destinations around the world!
Here is a brief summary by the artists themselves -Art We There Yet?
Why? Because art is our passion, and the world is our inspiration.
We will build a body of artwork and music inspired by the Americas, illustrating the landscapes and lives of peoples across the Americas. And there's another reason why…
Because art is powerful.
We will use art to boldly illustrate that our diversity is our greatest strength. We believe this is particularly important today, at a time when many are losing sight of our shared humanity and the value of diversity in society.
The arts enrich lives and everyone deserves access to public art and arts education. We both have a lot to give and a lot to teach. We will use our skills to contribute to public art and arts education in some of the places that need it the most.
With their p
owerful message and savvy determination, Cora and Jose set up their
IndiGogo
profile with the hopes of raising enough money to completely renovate an old school bus
transforming it

into a fully functioning

artist studio on wheels!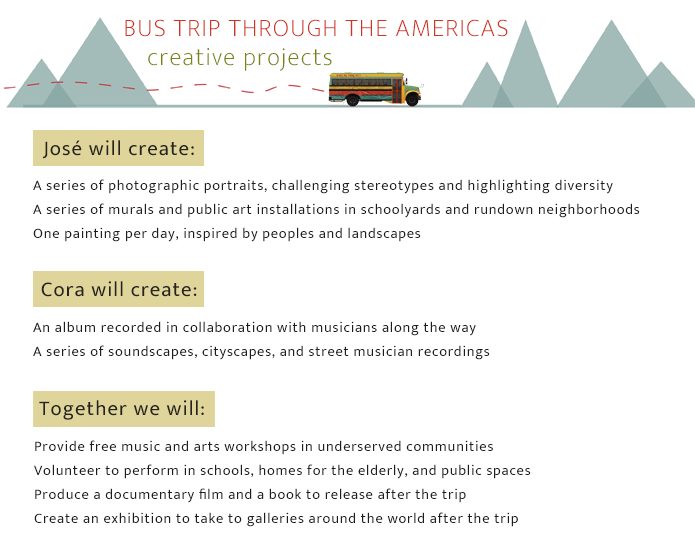 After learning about this incredible duo we knew immediately that we wanted to be a part of their a
mazing journey and who wouldn't? As the word spread and with the help of other generous patrons
they have successfully
transformed their bus into a fully functioning recording studio &

artist loft and have

taken to the road on August 19th.
Their travels will last for the next 3 years and they will visit these targeted locations around the globe ...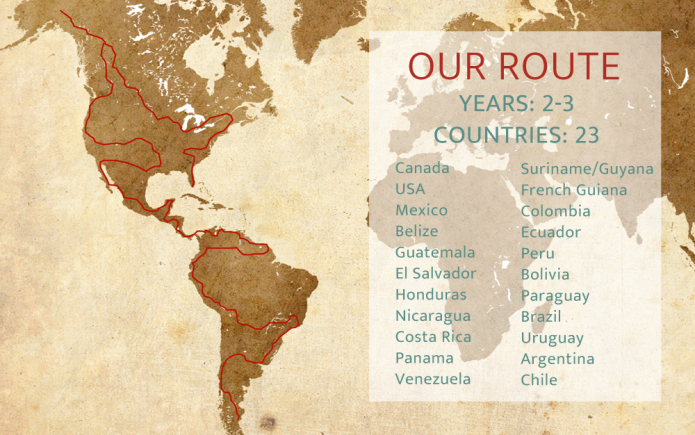 Impressed? So were we!! Check out these photos of their converted bus...
A
project of this scope requires hard work, determination and the generosity of patrons of the arts. If you feel as inspired as we did - see how you can become a patron and check out their blog and Indigogo page where you can purchase art work and find other ways to participate in making their travel goals spreading the creative word through art and music!
About the artists:
José Luis Vílchez
is a fine art painter, photographer, and musician from Nicaragua and the USA. He is a graduate of the School of the Art Institute of Chicago, one of most prestigious art schools in the world, and he has traveled to over 70 countries. He co-founded the Lido Art Center in Guangzhou, China where he also conducted portfolio reviews to help students gain acceptance to the world's top art schools. His work has been shown in galleries in the USA, China, India, Nicaragua, and Romania. Here is his
website
.
Cora Rose
is a singer-songwriter and record producer from the USA. She began songwriting at 7, performing at 12, and released her first album at 15. She has written with Dave Brainard, Michael Peterson, Roy Rivers, and Jill King, and she has had placements in TV and film, including NBC's Parks and Recreation and the acclaimed documentary, Taming Wild. She developed a songwriting and recording workshop program, which she has conducted in public K-12 schools throughout the USA. Here is her
website
.
To learn more about the project or to see how you can help too - visit :